Welcome to Hempstead
Gateway to bluebonnet country!
We are a short drive from Houston just down US Hwy 290 at the intersection of Texas Hwy 6 going toward Texas A&M University. Each year tourists are drawn to our area as they travel in search of beautiful bluebonnet fields and other wildflowers. It's a natural landscape for some great family pictures.
The natural countryside is also a big attraction to cyclists and other folks who like to take leisurely Sunday drives. You will be taken by the vast array of natural beauty and rural countryside. We also have some great restaurants and shopping locations to entertain you while you are in the area.
Best known for the annual Watermelon Festival, Hempstead has small town country charm. Of course you don't have to wait for the Watermelon Festival to come out and see us. Give us a call to get a free Waller County map before you come so you can find your way to many great locations.
Annual Watermelon Festival
Come out and join us for some great family fun. Each year on the third Saturday in July we hold the annual Watermelon Festival. This year is going to be even more exciting as we add more entertainment and activities for everyone. Get all of the details here...
Annual Waller County Fair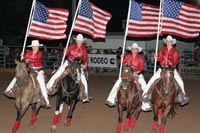 As the county seat for Waller County, Hempstead is also home to the annual Waller County Fair. The fair starts the last weekend in September and goes for one week. During that time you can enjoy live entertainment, carnival activities, livestock shows, pro and amateur rodeo and much more. You can get more information by visiting the county fair web site.
Site Sponsors
If you are interested in advertising, call the chamber office at 979-826-8217 and download ad requirements here.